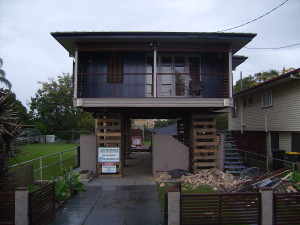 Depending on the size of the house, the cost can vary between $10 000 and $70 000 for the raise and restump. The following lists a few examples of house sizes and approximate costs.
One/Two Bedroom Workers Cottage – Approx size = 6m x 8m >

$12 000 to $15 000.

Two/Three Bedroom House – Approx size = 8m x 11m >

$14 000 to $20 000.

Three/Four Bedroom House – Approx size = 10m x 15m >

$22 000 to $30 000.

Larger Three/Four Bedroom House – Approx size = 12m x 18m >

$25 000 to $38 000.   
The abovementioned costs include lifting the house up to approximately 3 metres, installing new steel galvanised columns, some structural steel beams to spread out the distances between posts, as well as 6 bracing sets. The prices do not include drafting plans, engineering and council approval, reconnection of services, new stairs, new concrete slab etc. Also be aware that these prices are given as a rough guide and all house raising projects are quoted differently to suit the house, new materials required and the site.